Parcel locker – parcel2locker cool
An expander for the system for dispensing and receiving parcels. It contains refrigerated lockers (3-5 °C) suitable for food storage
Suitable for:  refrigerated food storage, parcels via cashless payment 
1) Private:  no need to integrate third-party software, can only be used by a pre-defined group of users
2) Public: possibility of third-party software integration, possibility of dedicated or shared capacity
Intended for:   public or private areas, indoor and outdoors, automated receptions in office buildings and industrial parks, logistics, transport and courier companies, post offices, retail, e-commerce, etc., 24/7
HOW PARCEL2LOCKER COOL WORKS:
The courier opens the locker by reading the QR code of the parcel (in the case of a fully integrated carrier) or by using the LCD display and places the parcel into the locker. The system generates a PIN, which is sent to the recipient of the parcel via SMS to their mobile phone. When collecting the parcel, the recipient is asked to enter the PIN received, and the locker is then opened. 
MAIN ADVANTAGES: 
Operability 24/7
Remote monitoring and remote management
Unattended operation - saving time and money 
Functioning baggage reclaim even in the event of an Internet outage
High security - robust solution, durable material, under a camera surveillance system 
High system throughput – quick luggage storage/retrieval
Multilingual GUI – Czech, English, German, French, Spanish
Low power consumption
Need help with your project or get more product details?

Arrange the first consultation of your project remotely.  Suggest a time and we will email you meeting invitation using  Microsoft Teams. 
Contact:
   Dita Froncová, Sales Manager, tel. +420 724 323 438, e-mail: dita.froncova@conteg.cz
Parametr
Hodnota
Design

A sheet metal module with 5 cm insulation to ensure thermal stability. 

The module maintains the temperature of the lockers (boxes) between 3-5 degrees Celsius. 

The module contains 8 lockers (boxes) as standard 

The module is made of sheet metal 11321.21/ DX51D+Z180 MAE with a thickness of 1.25 mm for the shell and 1.5 mm for the door

Standard surface finish: external powder coating – white RAL7035/black RAL 7016. For larger projects, the color of the module can be changed..

Lifetime of the electromagnetic lock: 500,000 openings

The doors of the lockers are self-closing and fitted with a magnetic seal. 

The door is equiped with a colored LED that indictes wheather the door is open or closed. 

Load capacity of the shelf: 50 kg

For the outdoor version, protection against leakage (PUR seal)

Sheet-metal modules with the possibility to define the size of the box.

Powder coated finish with anti-graffiti treatment

Security

Reinforced structure – reinforcements in shelves and doors

Stabilization elements, ready to be anchored to the wall or ground

Electronic monitoring of unauthorized access to the box

Extensions

Roof made of sheet metal or glass

Software
Not equiped with software. It only works in combination with parcel2box smart module.
Payment

Free of charge or by credit card,  via payment terminal on the parcel2box smart module 

Access

Using the PIN code received via SMS or in conjunction with the parcel2box smart module using the touchscreen 

Depth

63 cm

Width

120 cm

Height

225 cm

Power supply

230 V

Connection

Internet connection or available GSM signal 

Services

Design, Transportation, Hardware installation, System setup and operator training, Warranty and post-warranty service, Call center

Operated by

Client  

Delivery time

6 weeks

Warranty

24 months
Datasheet
cool2locker-FOODLOCKERS.pdf
File size: 1310 kB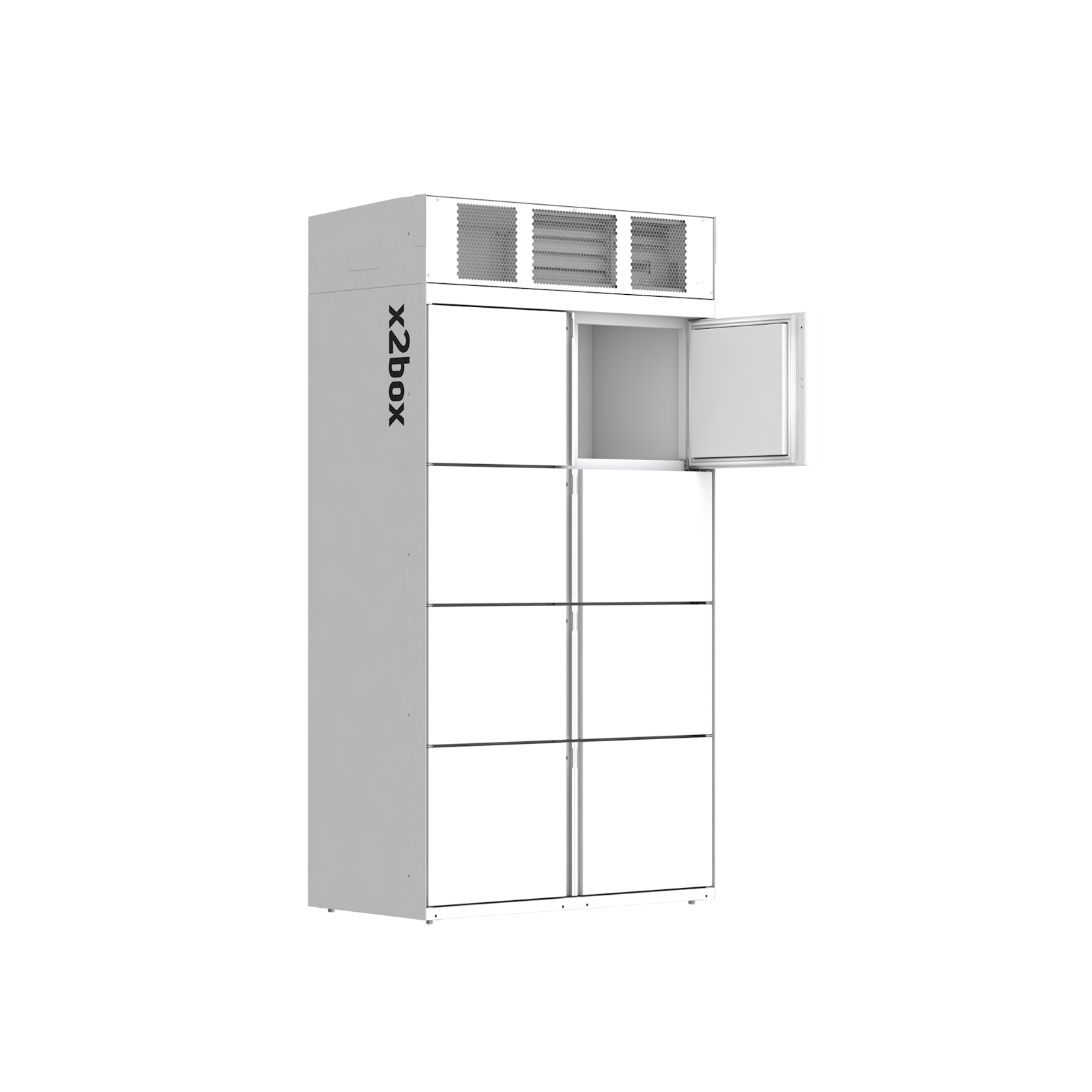 Image
prijem-vydej-zasilek-parcel2box-cool_left-web.png
File size: 221 kB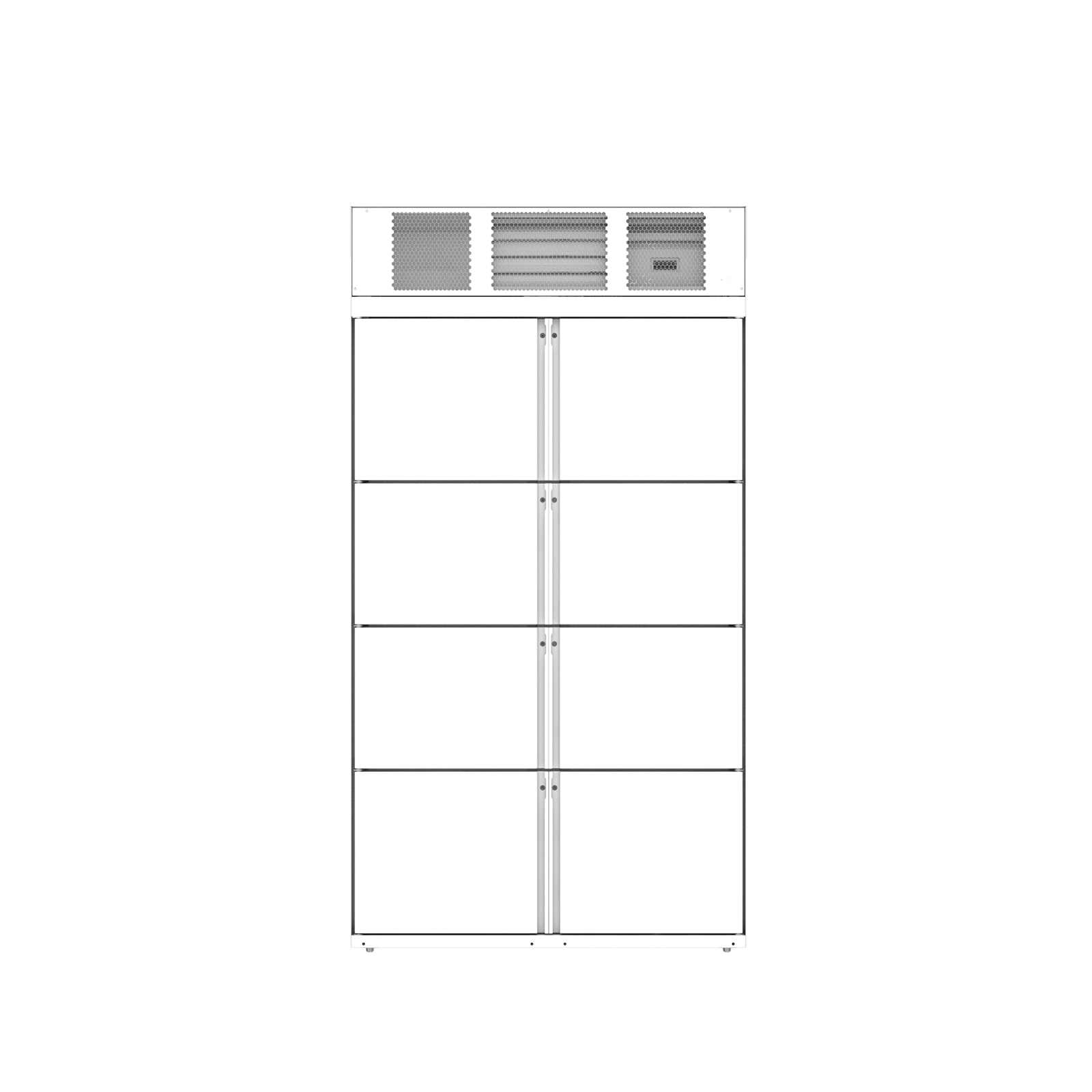 Image
prijem-vydej-zasilek-parcel2box-cool_front-web.png
File size: 107 kB