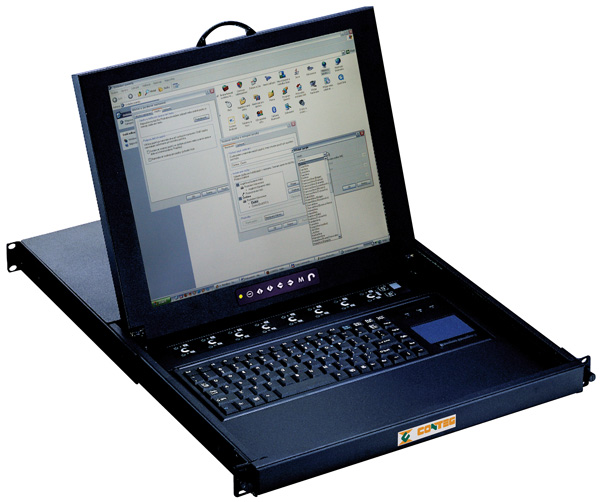 KVM/LCD Switch
The KVM/LCD solutions offer a spatially efficient design (integration in 1U) and allow for easy configuration and management of individual servers and their cascades.
KVM consoles are designed for server rooms or large data centers. The consoles allow direct or remote access to individual servers or their cascades. By using this Conteg console, you will be able to configure and administer servers from all the main manufacturers (IBM, HP, DELL, SUN, and others). They can be used with the KVM switch and LCD console. These compact units (1U tall) come with keyboards and touchpads. KVM consoles can be combined with LCD holders that are equipped with LCD monitors with 17" or 19" screens.
The design of the LCD holder (incl. monitor) allows the screen to be folded when not in use so that the total height of the console with the LCD monitor does not exceed 1U. The holder also includes extrusions designed for easy assembly and pulling out of the KVM/LCD console. One of the main advantages of these Conteg holders is that they are equipped with a full keyboard (including numerical keys) with 104 push buttons and optional language settings. They also include a touchpad. LCD holders can be combined with individual KVM consoles offered by Conteg. In case you cannot find the LCD holder or KVM console you are looking for, do not hesitate to contact us. Many special consoles and holders are not included in our standard offer.
PS/2 or USB input into LCD holder (according to cabling terminal type)
Keyboards are equipped with touchpads (with a trackball option)
Optional keyboard language setting
USA, GBR, JPN, DEU, FRA, ITA, RUS, ESP, CHN, KOR, DNK, CHE, NOR, and European language settings - EU keyboard layout is standard
Multilingual "on-screen" menu
Sliding bars used to set position prevents movement during typing
Easy connection to KVM console
Standard power supply 230V; 12, 24, and 48V option
Parameter
Value
KVM/LCD

High Cat5 KVM density with 16 or 32 ports

USB(PS2) KVM with 8 or 16 ports 

Cost-effective integration

Compatible with all operating systems including Windows Vista, 2003/XP/2000, Linux, Netware, and Unix

Accessories

3 m USB KVM cable: K-C-USB-3

3 m PS/2 KVM cable: K-C-PS2-3

3 m Cat5e STP patch cable - grey: K-C-STP-3

PS/2 dongle for Cat5 KVM: K-D-PS2

USB dongle for Cat5 KVM: K-D-USB